Our Fishmongers in Shoreham, West Sussex
Established in 1993, our shop in Shoreham West Sussex, La Poissonnerie, serves wholesale and retail customers with a superior quality and diversity of fresh fish & shellfish.
From locally caught fish and shellfish to more unusual imported species, fresh and frozen our shop provides it all. We specialise in all manners of seafood and our friendly & knowledgeable staff are always happy to assist wherever possible with all your needs. We are fully committed to preparing all our fish on the premises at your request.
Our boats land today's catch directly onto our quayside and within a matter of just a few hours of being caught the fish is presented in our shop ready for your plate!
We provide a number of Sussex pubs, restaurants, residential care homes and caters with their seafood needs, offering wholesale prices, preparation and free delivery to local establishments.
Shop discounts are given to all fresh wet fish orders over £100 and are also available on wholesale prices.
For more information on wholesale & retail prices, products & services or to place an order call us today on 01273 463014, email us at info@monteumltd.co.uk or fill in our contact form.
Visit the How To page for a series of short videos showing how to fillet a flat fish (e.g. Plaice, Lemon Sole), a round fish (e.g. Sea Bass, Trout, Mackerel).
Having a special Party?
Here at La Poissonnerie we can put together an exceptional Fruit-De-Mer platter for you. Choose from either our standard platter or have a bespoke one put together for your special evening. A platter that never fails to impress the taste buds or the eye!
A standard platter serves 2 people and contains:
1 x Lobster
1 x Crab
8 x Crevettes
4 x Oysters
250g of Shell on Prawns
250g Whelk Meat
Please contact us for the current seasonal price.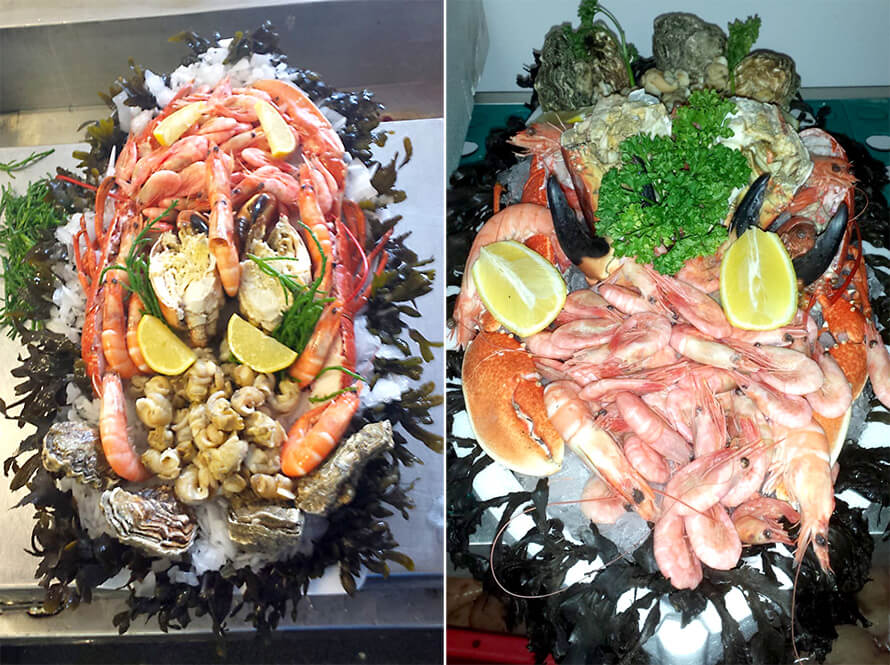 Call us today for more details 01273 463014.